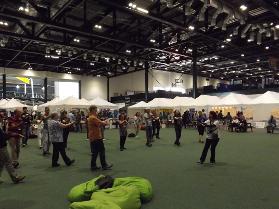 Forthcoming Events:
(Corporate events and one day wellness events are not listed here)
Imperial College twice weekly:

CHANGE OF VENUE Thursday evening classes will now be held in the Prince's Garden 6-7pm The gardens are just off Exhibition Road. Only in the case of wet weather will the class be held indoors in the Huxley Building common room
On the South Kensington campus Thursday evenings 6-7pm from 3rd May to 28th September 2018, in the common room of the Huxley Building (room 549) and on the Hammersmith campus Tuesday lunchtimes 12-1pm from 1st May to 26th June. Only open to staff and students of Imperial College, who can book online at https://www.eventbrite.co.uk/o/sport-imperial-13393529989
Manor Park Community Neighbourhood Centre and Library Mondays 11:45-12:45 from September 10th 2018.

Previous Events:
2018 Kew Gardens Adult Learning
May 1,8,15,22,29 June 5 between 2-3pm
This course is aimed at absolute beginners and booking is via Kew Gardens, at
https://www.kew.org/kew-gardens/whats-on/tai-chi
Kew Gardens Adult Learning

September 5, 12, 19, 26 between 2-3pm 2017


This is a short series of lessons, enabling people to enjoy their tai chi in the beautiful surroundings of Kew. Not only will it be nice for people to be able to remind themselves of their experiences during Friend's Week, it will also be suitable for people who have never tried tai chi before. It will be in a different (but equally serene and nature-loving) location.
Friends will get a discounted rate on the course fee, so it's really very worthwhile joining as a Friend. Information on this course is at the link below:

http://www.kew.org/kew-gardens/whats-on/tai-chi-0

This was the first of TWO events at Kew Gardens this year:

Kew Gardens Friends Week Monday 15th May - Sunday 21st May 2017
This is our fourth year running at Kew Gardens for various events and their own second year of "Friends' Week" This is a thank your to their Friends for their support by offering a week of activities and experiences that span everything they do at Kew, and offering unique access to Kew experts and behind-the-scenes areas. Last year was a wonderful experience, so if you want to join Kew as a Friend, to take advantage of this, then visit their website at http://www.kew.org/support/membership
Details are now up on their website about all the activities at this year's Friends' Week at
http://www.kew.org/kew-gardens/whats-on/friends-week
meanwhile the wonderful video they shot at last year's tai chi sessions during Friend's Week is on our Gallery page drop down menu's Kew page.
Kew Gardens Friends Week Monday 16th May - Sunday 22nd May 2016

Kew has organised a week of a whole variety of activities especially for Friends of Kew Gardens. Tai chi sessions are at 9:00-10:20 am every day Mon - Sun and two afternoon sessions on Sat and Sun only at 2:00-3:20pm. Theoretically these are two 40 minute sessions, but the way they're run with a rotating carousel of tai chi activities, people can just join in whenever they arrive, stay for as long or short as they like, so don't worry about having to arrive for the start of any session. For more information about Friends of Kew, visit http://www.kew.org/support/membership
Details about Friends week can be found at: http://www.kew.org/visit-kew-gardens/whats-on/friends-week
Mondays 13:00-14:00 for ten weeks (until end of July) and Thursdays 14:00-15:00 for five weeks (until end of April). Tai chi classes at Henna Asian Women's Group, Abbey Community Centre, Belsize Road, NW6 4DJ For more information on this friendly, welcoming, yet professional group, please visit:
Twitter:@HennaAsianWomen

25-28th March 2016 Tai chi sessions for attendees of Mancunicon, in the Hilton Hotel, Manchester.
27th June - 1st July 6:45 - 8:45pm Weds Kew Gardens "Spicy Lates" evening sessions of tai chi. More details of the event at:
http://www.kew.org/visit-kew-gardens/whats-on/full-spice-lates
7th June 2015 London Competition for Traditional Tai Chi Chuan at the Clissold leisure Centre, 63 Clissold Road, Hackney, London N16 9EX
a great chance to see all the traditional styles of tai chi, including forms, weapons, push hands. For more details visit http://www.wustyle-europe.com/competition2015.html
3-6 April 2015 Tai chi sessions for attendees of Dysprosium, the 66th British National Science Fiction Convention.

Wed 1st October National Older People's Day, celebrated by residents of Harp House, Hanover Housing Association, for participants aged 65 to 106 years old.

25th May to 7th September 2014 Kew Gardens Plantasia Festival

16th and 18th August (10am both days)
Excel Centre for Loncon3 attendees, on The Green in the Fan Village


Thurs 10th April
National Psychosis Summit conference, Westminster, London.
Monday 20 - Fri 24 Jan 2014 Adverts for Kabuto Noodles, as videos, photos and fun!

Saturday 2nd November. Rethink Mental Illness National Carer's Day. Tai chi for health and wellness.
Tuesday 15th October Health Day for the over 50's at St John's Community Centre, Glengall Grove, E14 3NE
5th and 6th October. Young at Heart Show Alexandra Palace. Demonstration and a stall in conjunction with Wu's Tai Chi Chuan Academy (of Bethnal Green). http://www.youngatheartshow.com/
August 24th Manor Park Festival, Newham.
July 10th London College of Communications Health and Wellbeing Day
July 7th Green Candle Dance Company Health and Wellbeing Day
June 14th Newham Carer's Health and Wellbeing Day
April 26th L&Q Housing Health and Wellbeing Day - classes of 150 people, with 2 instructors and sound mikes.
April 20th Teaching Leaders Conference- teachers to experience learning tai chi as pupils....